– 4 months of classes
– 1 month of project-work
– 4 months of internship
Application deadline  17th May
Selection tests 3rd May and 18th May

full time course
Working language: English
The Master's Course in International Business Management, entirely held in English, prepares highly specialized students in the field of business internationalization and foreign trade through a unique experience of advanced tools concepts and practice.
The Master represents one of most important and necessary education courses for new graduates entering the contemporary business world.
The Master's course is open to graduates in the areas of Economics, Engineering, Law, Humanities and Social Sciences with an excellent knowledge of English. The pragmatic approach and methods of the Masters provide an opportunity for upgrading the academic knowledge to managerial competencies and skills for living and working in a complex world.
Knowledge of a second foreign language is a favorable qualification for selection.
THE INTERNAZIONALIZATION OF COMPANIES
Due to the significant changes in the international markets and the widespread slowdown in domestic demand witnessed by Italy and Western Countries more widely, business organizations are requiring people adequately and consistently prepared with today's market needs: analytical skills, visioning and imagination, calculation speed and reaction, proactivity, comprehension and adaptability to innovative technology and settings, proficient communication, complex problem solving, sharing knowledge and pratice, social responsibility and ethics.
Companies' competitiveness is increasingly relying on the quality of their resources, and this is particularly true for international markets: the market selects and acknowledges the companies and their products on the basis of their new organizational models, the values and the skills that they embody and communicate. Managerial figures are actors and drivers of organizational change because they have the task of translating ideas and strategies into solutions. Today, more than ever, management training has to meet the actual needs of companies: this is a strong reason for companies to actively participate in the educational programmes of this master and to collaborate in the course's projects aiming at developing skills according to their needs.
NOVELTIES OF THIS EDITION
On the basis of its experienced and qualified structure this edition of ISTAO Master in International Business Management presents the following new features:
ORIENTATION, INDUCTION AND TRAINING TO JOB AREA. New formats and tools in the area aiming at preparing and training to the entry into the professional context. Role-plays, storytelling and group interactivity for the development of: problem solving, listening skills, work-life balance, respect for self and the others, interpersonal skills, adaptability, self-management in changing and innovative contexts, team work, communication and effective speaking.
BUSINESS ENGLISH CERTIFICATE. Participants will be given the opportunity of attending English lessons with trainers qualified for preparing them to obtain the Business English Certificate (B2 or C1) by the Cambridge English Institute.
ACTIVE LEARNING LABS. These educational practical contexts are specifically built on the goal of meeting the needs expressed by the social, economic and productive context. The labs have the following purposes:
To "immerse" participants in the "real" company living context in order to afford and learn how to perceive and decode organizational settings and behaviours, to manage relations and communication with colleagues and managers.
Training how to work on practical projects : how to prepare and implement work plans, how to conduct project brief, how to achieve goals on scheduleAcquiring skills to manage time.
INNOVATIVE TEACHING METHODS
Open class: facilitating the contamination of knowledge.
Learning by experience: deep and rapid assimilation of concepts and tools.
Speed teaching: interactive and circular team work class with round feebacks).
Role play with managers and experienced professionals.
The Master aims to develop:
MANAGERIAL ATTITUDES
Future managers learn how to effectively operate in any business circumstance and how to consistently behave in any cultural and global environment. Through laboratories, team-work, role-plays and simulations they develop entrepreneurship, vision, anticipative and proactive approach.
TECHNICAL AND MANAGERIAL SKILLS
Future managers acquire the technical and managerial skills for acting on the strategies of companies' business internationalizations , specifically: how to manage effectively time and resources, how  to  solve  problems and acquire solutions, how to work and optimize among different international managerial systems, from legal to customs and accountability norms and tools, how to manage change and unforeseen events.
SPECIALISTIC KNOWLEDGES
The themes of internationalization are provided through lectures and modules on specific countries and areas of the world and training projects "on field".
Area 1: ORIENTATION, INDUCTION AND TRAINING TO JOB
Team Building & Team Working
Orientation and empowerment
Public speaking
Negotiation and cross-cultural management
Area 2: INDUSTRIAL ORGANIZATION AND INTERNATIONAL STRATEGY
Micro and macro economics for business
The International monetary system
Industrial organization
Internationalization strategies: Going global vs becoming global
Area 3: THE ENTERPRISE AS A SYSTEM
Financial statement analysis
Strategic marketing and Marketing planning
Commercial management
Web and social media marketing sales management
Supply chain & operations
Science Service Management Engineering
Business plan
In company workshops
Industry 4.0
Area 4: COUNTRY ATTRACTIVENESS
Country Attractiveness Analysis: Tools and sources
International industry and Emerging Markets: Russia, South-East Asia, Persian Gulf, Subsaharian Africa
Doing Business in the Balkans
Local regulations and business practices in South American
Company internazionalization strategies in China
Doing business in India
Export Planning in the North American market
Doing business in UAE
Area 5: EXPORT MANAGEMENT
International Contracts
International Accountability and Taxation
Intellectual property management
Customs regulation and IN.CO.TERMS
International Payments
EU project cycle management
Economic opportunities in the Adriatic-Ionian Macro-region
Area 6: ETHICS
Ethic entrepreneurship and leadership
Sales ethic
Ethic finance
Circular Economy
Area 7: IT BASICS
Excel basics
Excel professional proficiency
Powerpoint professional proficiency
Area 8: ACT – ANALYSIS AND CONSULTANCY TRAINING
Students, in teams, are committed to work on real firm's NEEDS AND EXPECTATIONS tackling with internationalization issues. Teams are assisted and supervisioned by company managers and ISTAO tutors.
The project work in ATL starts with an initial brief with the company, analysis and scouting for solutions, work on data and testing cases, teamworking and ends with a final presentation of the project.
project, students work in company and/or at ISTAO for the duration of 1 month.
Area 9: INTERNSHIP
4-months (may be extended to 6 ) final internship in a company.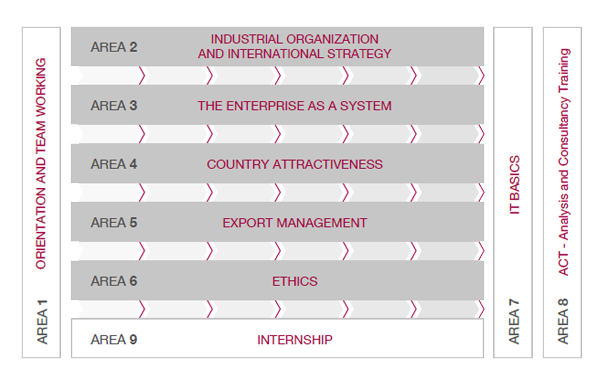 The master will give an all-round preparation in business internationalization and managerial skills and knowledge for operating in a global market in these professional roles:
Foreign Trade specialist.
Marketing and International Marketing specialist.
International accountancy specialist.
Junior manager of foreign branches and networks.
ISTAO has a yearly experience of practical methodology which combines scientific rigor with pragmatism and a proximity to business operating companies. Through in-company projects and internships, students experience the knowledge acquired during the courses, while companies get to experience the skills of potential employees. Through the Analysis and Consultancy Training (ACT) students are prepared to analyse complex situations, to look for interpretations and to find possible solutions to be presented to the company.
Active teaching labs are co-planned with companies to offer students a "real" business environment where they face complexity and punctuality as fundamental drivers for solving business problems.

The faculty is composed by managers, professionals and consultants with a proven knowledge of the global business environment and a long cooperation with ISTAO. The Master's faculty in 2015/16 was composed,among others,by professionals coming from:
C.MET 05
ASTON UNIVERSITY, Birmingham (UK)
INDIANA UNIVERSITY, Indianapolis (USA)
CRACOW UNIVERSITY OF ECONOMICS, Cracovia (PL)
UNIVERSITA' POLITECNICA DELLE MARCHE, Ancona (IT)
UNIVERSITA' DI MACERATA
CABLEWAY, Buenos Aires (AR)
EXPRIVIA CHINA, Pechino (CN)
GC&P CONSULTING, Bassano del Grappa (IT)
STS DELOITTE Roma (IT)
STS DELOITTE Bologna (IT)
The application form, drawn up using the form available (http://istao.it/pre-iscrizione-master/) and accompanied by two passport-size photographs against a light background, has to be sent to ISTAO (informa@istao.it), accompanied by the following documents on plain paper:
a written statement in which the candidate evaluates his/her experiences of study and work, describing his/her anticipated future counseling, and explaining the reasons why he/she wishes to participate in the course.
certificates of past studies, indicating the final degree result and the marks obtained in individual examinations.
a summary of the thesis and any publications, not to exceed one page.
curriculum vitae.
documentation relating to any previous research and work activities, and any other document or qualification which the applicant considers useful to present (including letters of recommendation from teachers and/or employers.
Selection tests are designed to check the attitudes, skills, and motivations of each candidate. They are divided into: written tests, assessment center and interviews.
For students living abroad and unable to carry out selections at ISTAO, the same (or equivalent) tests are carried out through an online certified methodology.
None of the tests constitute a barrier to accessing the interviews.
• Written test
Candidates will undergo through three different written tests:
– General knowledge (Macro-Economics and Socio-Politics).
– English Language: grammar and syntax.
– English language: redaction of a paper.
• Assessment Center "Role Playing"
Small groups of Candidates will be tested on their ability of: adaptability, soving problems in complex contests, negotiating, working in team.
• Individual interviews
Two Commissions made of teaching and tutor staff and company managers will meet candidates to verify their aptitudes and motivations as well as assessing their level of spoken English.
• Grading definition
The admission grading will be determined by the score achieved in each of the above mentioned steps (English test excluded).
Maximum achievable score is 10. The final score is weighted by considering each phase of the assessment process as it follows:
– Written tests: 20%
–Assessment Center: 20%
– Individual Interviews: 60%.
The tuition fee is 6,500.00 Euros, to be paid in four instalments:
I instalment – 800.00 € – on admission to the course
II instalment – 1,900.00 € – by June 30, 2017
III instalment – 1,900.00 € – by July 27, 2017
IV instalment – 1,900.00 € – by September 5, 2017
ISTAO bank account numbers:
INTESA SAN PAOLO
IBAN IT89T0306902609100000001145
BANCA MARCHE
IBAN IT57Y0605502604000000006335
UNICREDIT BANCA
IBAN IT02U0200802626000000681583
UBI BANCA
IBAN IT67A0311102684000000012874
Scolarships are offered to the best candidates, ranked by merit and tests' results. They may cover the entire or half of the admission fee.